Based on the Old Fashioned Hershey's recipe, I sort of went a bit heavy-handed with some changes testing cake after cake until I got it just the way I wanted it, but the end result was oh so worth it. The crumbs left on the plate gave that away.
Ingredients
For this chocolate cake, you'll need the following ingredients.
all-purpose flour
sugar
unsweetened cocoa powder
baking powder
baking soda
salt
espresso powder – I give more information on the espresso powder below
milk – you can also use buttermilk, almond milk, oat milk, or coconut milk
oil – you can use vegetable, canola or melted coconut oil
eggs – when baking, I like to use room temperature eggs
vanilla extract
boiling water
Step-by-Step Instructions
Prep. Preheat the oven to 350º F. Prepare two 9-inch cake pans by spraying with baking spray or buttering and lightly flouring.
Whisk dry ingredients. Add flour, sugar, cocoa, baking powder, baking soda, salt and espresso powder to a large bowl or the bowl of a stand mixer. Whisk through to combine or, using your paddle attachment, stir through flour mixture until combined well.
Mix in wet ingredients. Add milk, vegetable oil, eggs, and vanilla to flour mixture and mix together on medium speed until well combined. Reduce speed and carefully add boiling water to the cake batter until well combined.
Bake. Distribute cake batter evenly between the two prepared cake pans. Bake for 30-35 minutes, until a toothpick or cake tester inserted in the center of the chocolate cake comes out clean.
Frost. Remove from the oven and allow to cool for about 10 minutes, remove from the pan and cool completely. Frost with Chocolate Buttercream Frosting.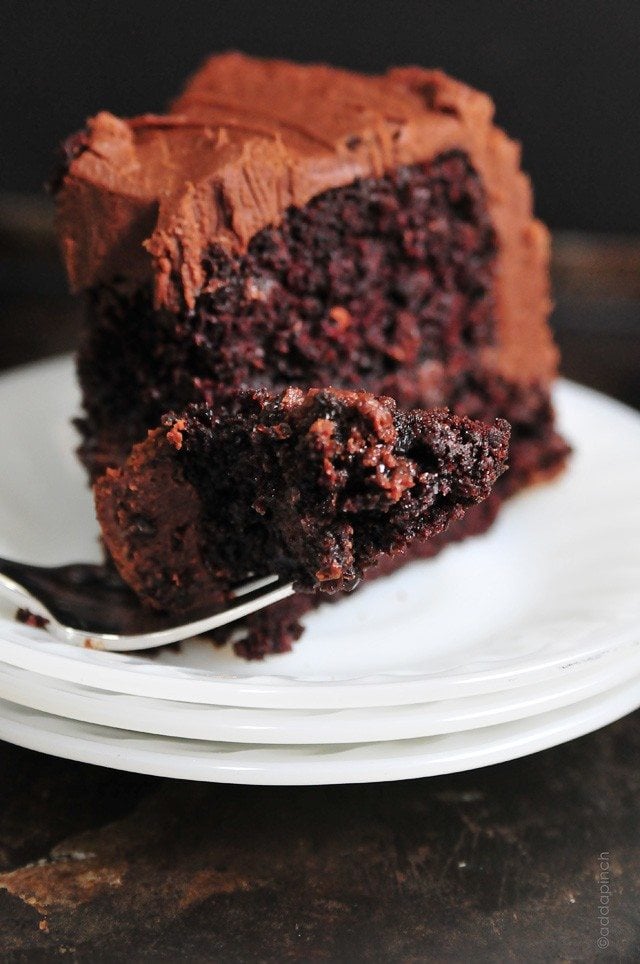 ESPRESSO POWDER
One of the ingredients that really made this cake recipe come to life, in my opinion, was the addition of espresso powder in both the chocolate cake and in the chocolate frosting.
If you've not tried a bit of espresso when baking with chocolate, you really should.
The espresso works to elevate the flavors in much the same way as vanilla extract and I now think of it as an essential part of my spice cabinet.
Espresso powder is easy to find at the grocery store or even online if your grocer doesn't stock it normally, but I use it fairly frequently and it can become a little pricey. I've started making my own homemade espresso powder and since I have I'm not looking back! It is so easy to make and have on hand!
Believe me when I say, it is very much worth the effort to have just for those times you are baking with chocolate!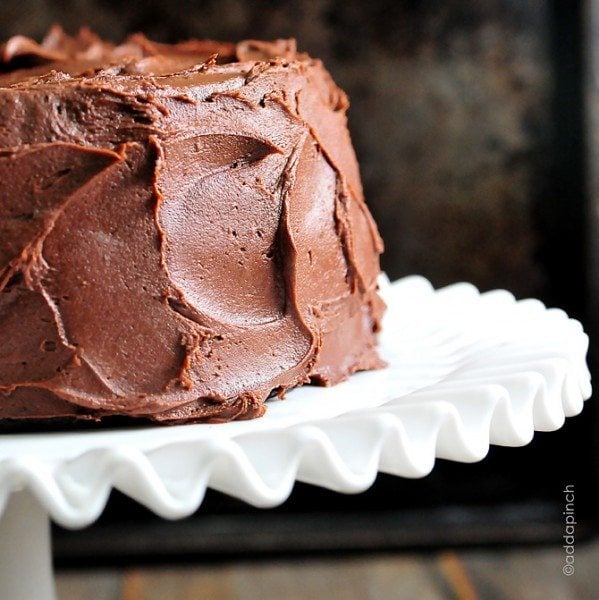 So my friends, if you have a chocolate cake lover in your midst, make them this cake. If they've had a bad day this is certainly something that will brighten it for them. If they've had a great day, then this chocolate cake is a great way to celebrate with them!
Let me just say again, this amped up classic chocolate cake + this Chocolate Buttercream Frosting Recipe = the best chocolate cake I've ever had!